SURF LESSONS AND BEACH CAMPS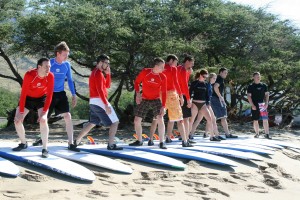 Everyone is, or was, a beginner at some point.  With Maui Beach Boys, our goal is to help you relax, feel comfortable, and most of all, have fun.
Lessons are simple, you show up, we get you geared up, then offer awesome beach instruction that will have you up and surfing in no time.
---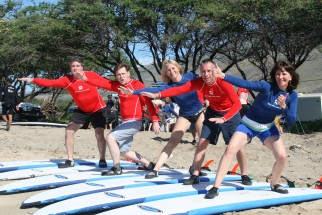 We will start you with a dry land lesson to facilitate and maximize your efforts once in the water.
---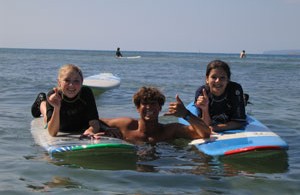 Instructors are in the water with you, helping you "read" the wave, and helping you with surfing etiquette…(believe it or not, there are "road rules" out there). Our instructors will assist your paddling so you have the best opportunity to ride waves. Lessons are two (2) hours long and consist mostly of water time. Two hours is perfect to have fun, ride waves, and get the feel of surfing. Open 6 days a week, 8am, 10am , 12 noon . . . and sometimes 2pm).
---
CAMPS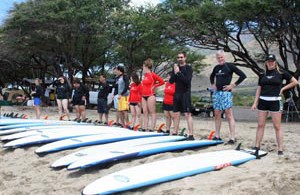 Some people find themselves wanting a little more. They've seen the guys
on TV riding bigger waves, hanging 10, and riding wave after wave. If you find yourself in this position, we have just the program for you.
You can join one of our Surf and Beach Camps.
Camp will go beyond the surfing basics, and give you the opportunity to surf different locations and waves. Maui Beach Boys is one of the only surf schools that offers lessons on a private uncrowded beach.
Surf and Beach Camps usually consist of 3 lessons where you will accelerate your learning.
With this, if you're qualified, you will be riding glass boards just like the pros!
---
Reservations required in advance.
Reserve your spot now!
Call 808-283-7114
OR