Who are Maui Beach Boys Anyway?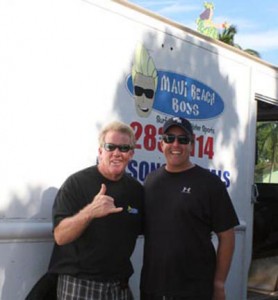 Maui Beach Boy's is a locally owned and operated Surf school in Maui Hawaii.
We are one of Maui's first surf schools.We have been teaching surfers at our Hawaii surfing school since we don't know when, but it's been a long time! Fully licensed and insured for your protection, our instructors are fun, friendly and pride themselves on providing excellent customer service.
---
Maui Beach Boy's Hawaii surfing school teaches the art of Hawaiian style surfing. Providing private beaches and un-crowded locations. You are guaranteed to surf on your very first lesson. We are the only surf school in Maui that provides refreshments and snacks and all special occasions are celebrated. We pride ourselves in being a very private surf school, providing private locations away from the crowded beaches.
Take a Learn to Surf Holiday
and let us help you:
PLEASE GIVE US A CALL AT:
808-283-7114