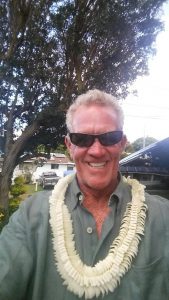 JB
A Maui icon and the owner of Maui Beach Boys. Everyone knows JB. He's been here for years enjoying the good life. When his inheritance ran out, he figured he had to work again, so why not make a living doing what he loved……….surfing. JB is an excellent instructor that is warm and friendly all the time. You may catch him on a slow day, while strumming his guitar and blowing his harmonica on the beach. If you see and hear him playing, feel free to make a request.
WARNING – JB talks a lot and then some. A good story teller and has plenty of them. Take some time to see JB and you'll always have something to remember!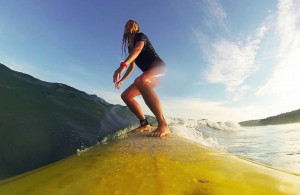 Ashley McKenney
(Maui Beach Girl)
Ashely is our  newest addition to the Maui Beach Boys team. She began surfing in Maine on mother's 1960s Greg Noll board and has beed an instructor for 9 years. Ashley has previously taught in Maine, Nantucket island, and Costa Rica so she can surf any conditions, but loves the warm Hawaiian waters. She has traveled to Central & South America, Southeast Asia, Australia, and New Zealand and has a wealth of surfing knowledge. To add to her surfing skills, she is also a competitive runner.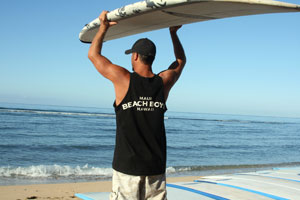 Darren
(Kiwi)
From the far South . . . New Zealand, Kiwi jumped on a plane, got to Maui and has been teaching with Maui Beach Boys ever since. Before arriving on the island, he was surfing the cold waters of New Zealand. Very charming and fun, you can literally see people relax with Kiwi and enjoy themselves. He'll have you laughing so hard you'll forget any fears you may have had about surfing.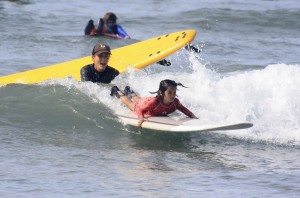 Katie Larkin
(Maui Beach Girl)
Meet the beachgirl from down under. Katie, who hails from Australia, is our #1 Beachgirl as well as a wonderful instructor. But be careful, as soon as Katie is done with work, you might find her navigating waves on her own paddle or surfboard. Katie grew up in surf life saving clubs on the Gold Coast where she competed and medaled in several surf life saving events. She left Australia in 2009 to travel, spending 2 years in London and Europe. But because she missed the ocean, she headed to Maui and fell in love with island life. Katie has competed in traditional Hawaiian 6 man canoe paddling events and has paddled competitively from Maui to Molokai as well as Maui to Oahu, and several long and short distance races within the island of Maui, Lanai, and Molokini. One tidbit
you may want to keep in mind is that Katie is wonderful with children and very well known on the island to be one heck of a nannie.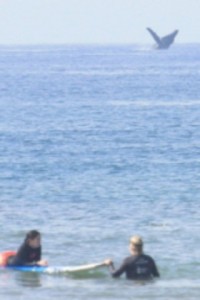 Karl Zartler
Just one heck of a spectacular shot as Karl gives a surf lesson with an approving Humpback whale in the background. Karl has been surfing since age 5. He traveled all of Baja for 20 years, living there for several years as a surf guide at remote surf spots. Karl hails from Newport Beach, California, but shares his home with his wife Lynette and their son Nicholas. Karl is one of JB's top instructors and can be found at Kalama park just about every morning giving surf lessons. He's hard to miss with his bleached blonde hair poking out from under his ball cap.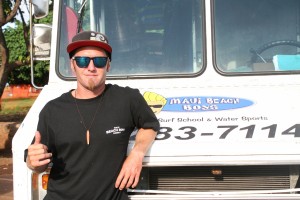 Dylan Bonick
Dylan's surfing career started at age eighteen. He was born and raised in Northern California, moving on to Southern California shortly after high school. Dylan learned to surf on a 6'0 short board on the breaks of Black's Beach, Hospital's and Sunset Cliffs. The last ten years of his surfing life led him to making eco-friendly surfboards in Venice Beach for Synergy Surfboards. He also spent time as a volunteer surf instructor for Amped Surf & Mali Ola Foundation, which helps dreams of amputee veterans and children with Cystic Fibrosis come true. Now 28, and living in Kihei, Dylan devotes his time to teaching surf lessons for Maui Beach Boys.